Hydra House is very proud to present Telling Tales, the anthology celebrating the 30th Anniversary of the Clarion West Writers Workshop with works by critically acclaimed, award-winning graduates.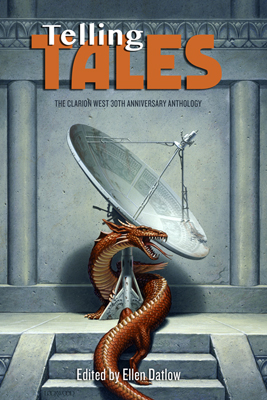 Edited by Ellen Datlow, Telling Tales pulls together sixteen short works of science fiction, fantasy, and horror by award-winning and highly acclaimed alumni of the prestigious writing program over the past 30 years. The anthology is a fundraiser for Clarion West as well as a celebration of the workshop.
The full table of contents includes:
"Endings and Beginnings," a preface by Vonda N. McIntyre
Introduction by Ellen Datlow
"The Parrot Man," Kathleen Goonan
"Absalom's Mother," Louise Marley
"Mulberry Boys," Margo Lanagan
"The Fate of Mice," Susan Palwick
"My She,"  Mary Rosenblum
"Bitter Dreams,"  Ian McHugh
"Leviathan Wept," Daniel Abraham
"Start the Clock," Benjamin Rosenbaum
"I Hold My Father's Paws," David Levine
"Beluthahatchie,"  Andy Duncan
"Another Word For Map Is Faith,"  Christopher Rowe
"The Adventures of Captain Black Heart Wentworth: A Nautical Tail,"  Rachel Swirsky
"A Boy in Cathyland,"  David Marusek
"The Water Museum,"  Nisi Shawl
"The Evolution of Trickster Stories Among the Dogs of North Park After the Change,"  Kij Johnson
"The Lineaments of Gratified Desire,"  Ysabeau Wilce
Each story is accompanied by an afterword by instructor of the author's choice from the year they attended Clarion West. Those instructors are:
Greg Bear
Pat Murphy
Howard Waldrop
Samuel R. Delany
Gardner Dozois
Maureen McHugh
Lucy Sussex
Connie Willis
Geoff Ryman
Elizabeth Hand
Terry Bisson
Andy Duncan
Pat Cadigan
Nancy Kress
Ursula LeGuin
Paul Park
The anthology is available in hardcover, trade paper, and ebook formats through the Hydra House bookstore.
Copies can also be obtained at the University Bookstore in Seattle, through Barnes & Noble, or Amazon.
For more information, contact Tod McCoy at tod AT hydra house books DOT com.