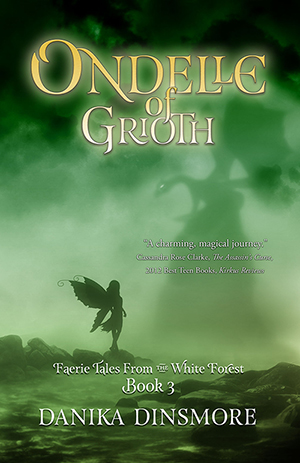 We at Hydra House are very pleased to present our newest title: Ondelle of Grioth, the third installment of Danika Dinsmore's Faerie Tales from the White Forest series. The book continues the tale of Brigitta of the White Forest in one of her most harrowing adventures yet.
And if you're going to be in Vancouver, BC, on Saturday, April 12, come by Christianne's Lyceum for the book launch party! We'd love to see you there.
Read more about Ondelle of Grioth. You can get a copy from the Hydra House bookstore or any major online book retailer.
How could we let CyberMan-day (err, did I just say that? I meant Cyber Monday) pass without offering some kind of special? It's the closest to being a science fiction holiday, so what the hey? Let's have a sale!
Through the end of December 3, 2013, Hydra House is offering 25% off of everything in its bookstore. That includes softcover editions of Telling Tales, the Clarion West anthology edited by Ellen Datlow (hardcovers must be ordered through Amazon, but aren't 25% off there) (sorry), Near + Far by Cat Rambo, The Twelve Ways of Christmas by Sandra Odell, Snapshots from a Black Hole & Other Oddities by KC Ball, and the first two books of Danika Dinsmore's "Faerie Tales from the White Forest"! Better get Danika's books now–the third book (Ondelle of Grioth) is about to hit production and will be released in the spring!
As always, there's free shipping in the United States on orders of $25 or more.
To get the 25% off, go through the shopping cart and type "cybermonday" in the space marked "Redemption Code". 
Cyber Men shop on Cyber Monday, why shouldn't you?
And if you ARE interested in buying a hardcover copy of Telling Tales, ping me at tod a@t hydrahousebooks.com. I have a few and will cut you a deal.