Ta-da! At last, we can reveal to the world the magnificent cover for Telling Tales. This magnificent image was created by renowned artist Todd Lockwood, and the gorgeous titling by Choo Ling Khoo. We at Hydra House couldn't be prouder of the way it turned out.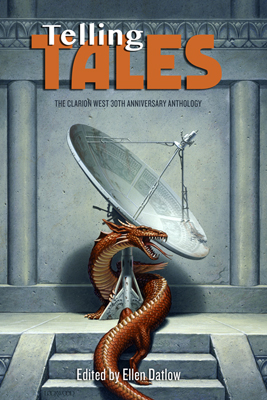 The anthology is also now available for preorder! For a discount! We won't have copies until June, but we'll send your copy when we get it.
You can find more information about the book here. You can also preorder the book at a discount here. (It will be available at the University Bookstore in Seattle, in fine independent bookstores, and through the major online outlets in June.)

Over the weekend, I got a peek at the titling that's being done for the cover. While it's not quite right, it should be done soon! The cover art itself is finished (thanks, Todd Lockwood for going above and beyond!) but we're not ready to release it just yet. Suffice to say … it looks GOOD.
You may have got a sneak peek if you're on the Clarion West mailing list. Each of those letters got a bookmark with a portion of the art on it, and on the backside a QR code that leads to the page where you can order the book.
Keep watching! Soon it will be here!
… Tod