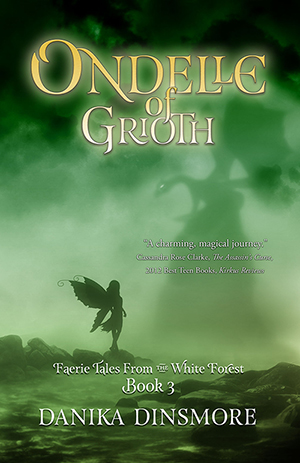 It's here! The latest installment of the journey of Brigitta of the White Forest.
Book Three of Faerie Tales from the White Forest, Ondelle of Grioth, picks up where The Ruins of Noe left off.
by Danika Dinsmore
246pp
$12.95 USD
ISBN: 978-0989082839
Available from:
Also available from fine independent bookstores around the country.
You cannot presume what our departed High Priestess would say or do at a time like this.
Yes, I can! cried Brigitta … I can, I can. I carry her here.
Brigitta pounded on her chest. She burst into sobs, and Elder Dervia wrapped her arms around her, pulling her into her bosom.
Thanks to Ondelle's parting gift, Brigitta is now a rare deodyte, a faerie bound by two elements. But she has little energy to explore, let alone enjoy, her new air element, as she is also now haunted by the memories of her dead High Priestess.
When she tries to learn more from the Air Faeries, she is met with suspicion. When she reveals her distress to the Council of Elders, they dismiss her from her Apprentice duties. And when the memories that plague her convince her she must seek an audience with the Eternal Dragon to reconnect her forest with the Ancients, she knows she must leave her home once again.
Driven by what she knows she must do, Brigitta steals the new High Priest's scepter and, along with the help of Jarlath and Minq, makes her way to Forever Beach. The problem: someone else has gotten there first, and the Ancients are now under his command.
---