"Narine of Noe" is launched!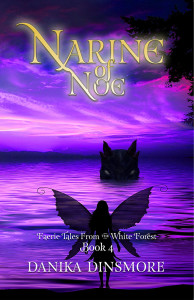 It's here! It's here! Narine of Noe, the fourth book of Danika Dinsmore's middle-grade fantasy series Faerie Tales from the White Forest, has been released!
Narine of Noe takes place long before the creation of the White Forest and follows the adventures of young Narine, who finds herself in the middle of a worldwide catastrophe:
Narine of Noe should have had her whole life to train to take her father's place as High Sage. But when a mysterious force falls from the skies, sending the world into elemental chaos, the fate of every living being lands on her shoulders . . . even that of the Eternal Dragon. Without the Dragon to maintain the Balance of All Things, an elaborate plan to save Faweh must be hatched, and Narine is forced to take charge in a world gone mad. Before the White Forest was born, before the Great World Cry, the story that started it all …
Current available from Amazon in ebook and print formats.
And:
This weekend only we've got special deals! Get the ebook for only $4.99! What's more, you can pick up the first book of the series, Brigitta of the White Forest, in ebook form for only .99c!!
Just in time for the holidays!
Here's your chance to leave a comment!
You must be logged in to post a comment.